Popular Men's Medium Length Hairstyles – Make Yourself Prominent By Hairstyling!
Explore with me, I will guide you about medium-length hairstyles very precisely and the popular hairstyles that are widely used nowadays. Medium length for men's hairstyles is considered to be 2-4 inches or 5-10 cm long. 
At the outset, let me explain some of the most popular men's medium-length haircuts, i.e., layers, waves, curls, dreadlocks, center or side parted, mullet, fringe, shag, and many others. 
Moreover, this article will give you a detailed explanation of trendy medium-length haircuts for men. Let me explore things with you!
Table of Contents:
Medium-Length Waves:
First, we will talk about the curiosity of men being classy but trendy as well; this medium-length waved hairstyle is the best for them to try. It is like long hair on top of the head and short on bottom.
You can opt for it according to your style to adjust the length. If you don't feel relaxed with cut hair to your skin, you must leave an inch or half on the back or sides as you feel comfortable.
Read also: Do Some Men Still Pay For Facial Shaves After Haircut? – Don't Miss Out!
Layers:
Let me introduce you to medium-length layers cut for men that offer men a very polished and styled look.
This haircut is specified by layers of different lengths depending upon one's choice, adding a healthy texture to hair.
This is the best choice for fashion-concerned men to have a relaxed and cool-vibed personality.
The layers are further divided into the following:
1. Grown Out Layers:
An aesthetically handsome look is attained by following this hairstyle that gives a natural appearance and is low maintenance but trendy. Moreover, it is characterized by lengthy strands of hair with layered ends.
2. Tapered Layers:
Of course, everyone has his own choice. One may not like the thing that others fantasize about. The tapered layers haircut is also a very classy cut that provides a balanced appearance and has gradually shorter layers towards the back.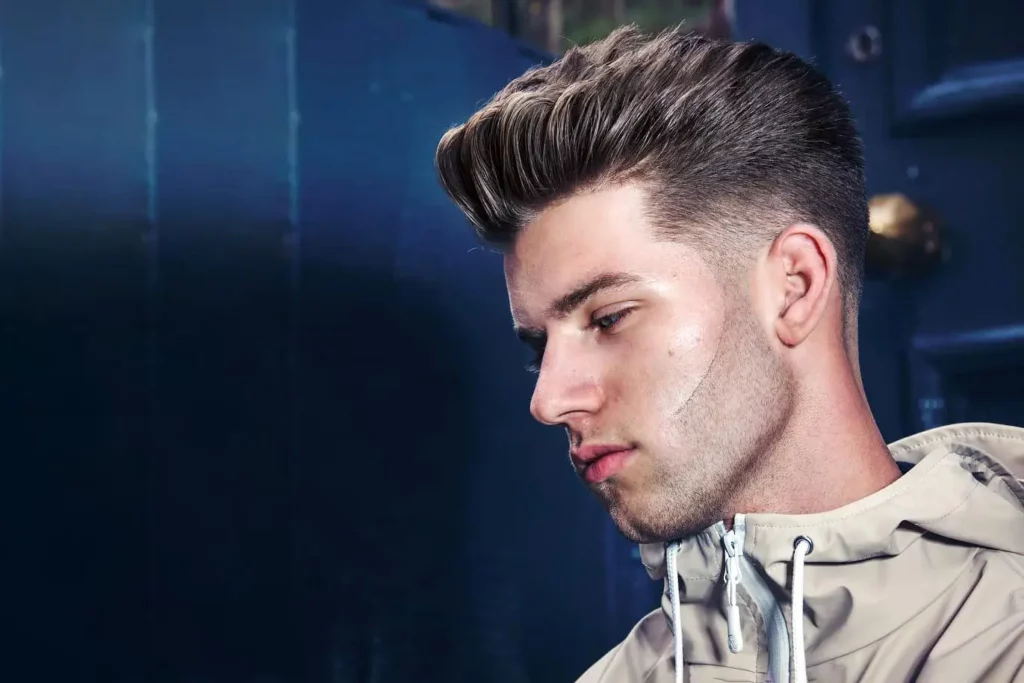 3. Blunt Layers:
These uniformly cut layers create a blunt appearance to make it unique and different from others. It is easy to maintain and is suitable for different hair lengths.
4. Long And Short Layers:
There is nothing to worry about for people who think their hair length is short but are curious about layers cut and can opt for short layers that add volume and texture without compromising on neatness of style.
People with longer hair can have long layers cut that will result in a flowy look.
Curls:
For a charismatic and eye-catching look, you should try curls.
This haircut features ample curls that fall around the medium length and finally execute a natural flair to hair and accommodate various textures, providing a versatile and distinct final look.
So, I recommend you try it if you love curls!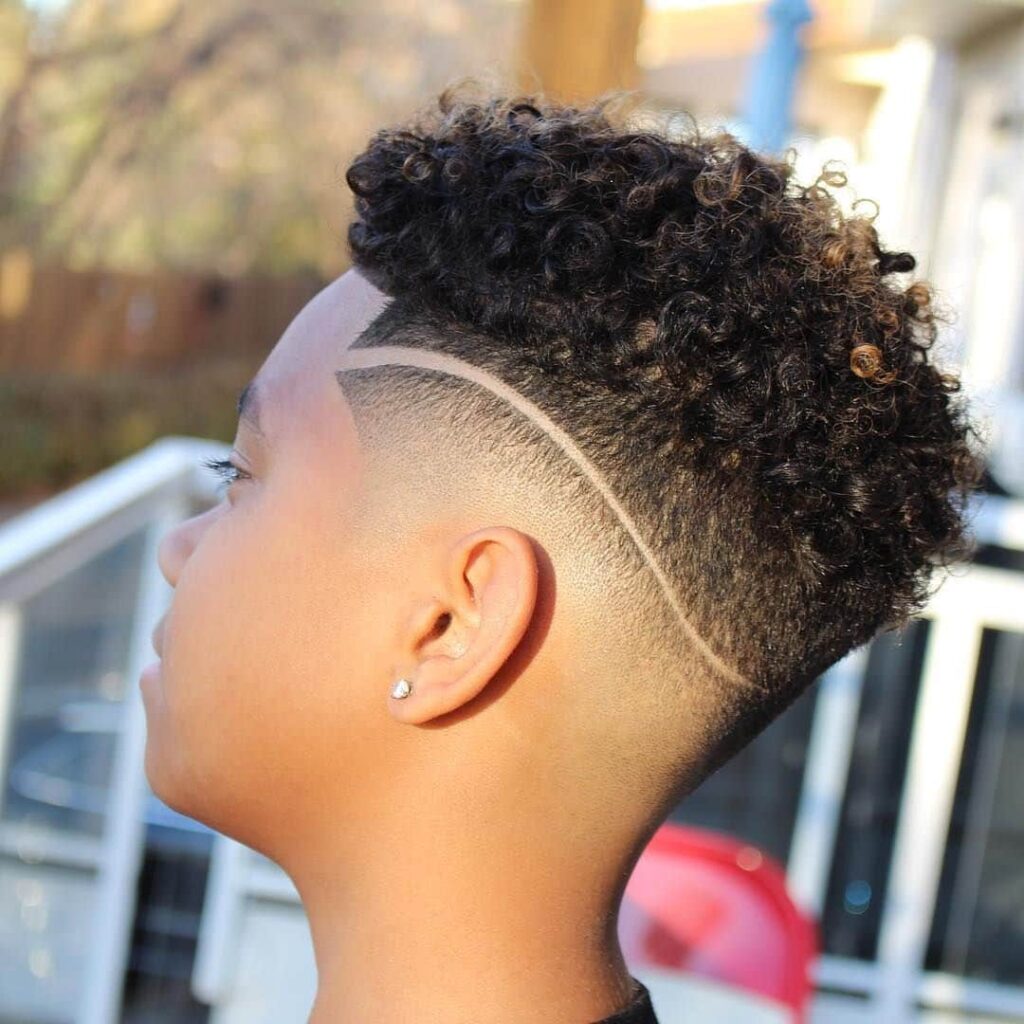 1. Straight Hair:
Medium-length straight hair for men is a common and classic style to adopt. It provides a balanced look that falls between short and longhair and offers various styling options, from a polished formal appearance to a casual look.
Another good thing about this haircut is that it is easy to maintain with simple regular trims.
2. Dreadlocks:
This unique style can be achieved by following different methods, including braiding or twisting with the aid of various products.
Maintaining and styling dreadlocks requires care and patience, resulting in a striking and unique look.
Moreover, dreadlocks have a rich cultural history, with links to various communities worldwide.
They can symbolize a spiritual revolution or serve as a bold fashion statement. Beyond their aesthetic appeal, dreadlocks are a testament to natural hair textures' unique beauty and diversity.
Read Also: Why Barbers Are Supposed To Sanitize After Each Client's Haircut? – Ensuring Cleanliness And Safety!
Style With A Hard Part:
This haircut is fit for hair of moderate length and adds versatility over various styling options. The clear "hard part" sets it apart, i.e., a sharply defined line shaved into the scalp.
This creates a clean, polished look and adds a touch of refinement to the overall appearance. The hard part is a bold line that provides a sharp contrast between the hair on either side.
Trendy Center Parted:
Briefly discussing, a center-parted hairstyle is a timeless style to do. It involves parting your hair directly in the middle, creating a symmetrical section on both sides.
This style is comfortable for different hair lengths and textures, resulting in a more relaxed, classic, and casual look.
Mullet:
A distinctive hairstyle that has shorter hair on the sides and front but longer on the back. This creates a unique, noticeable look. There are various types of mullet.
Choosing the right type depends on your style preferences, face shape, and hair texture. I have summed up some of the most popular Mullet types for you. Get a look!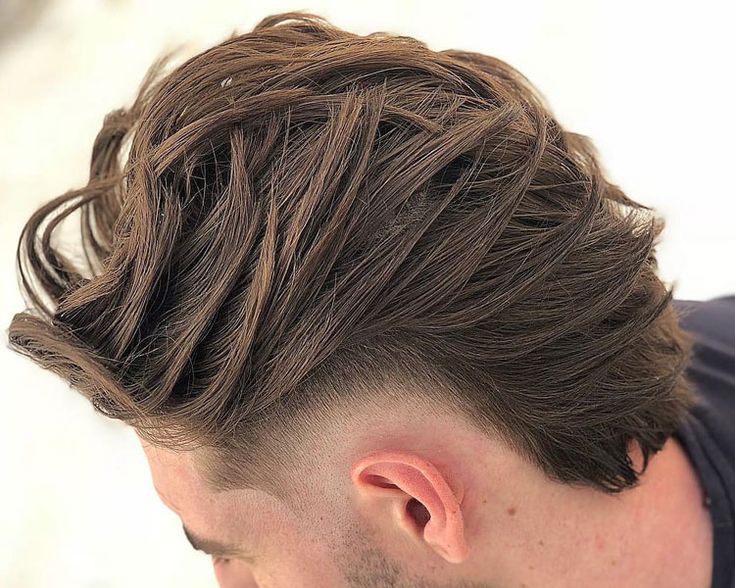 Classic Mullet: A traditional style of mullet that gives you a bold and iconic appearance is classic mullet. It features short-length hair on the sides and a significantly long section on the back.
Modern Mullet: A modern mullet is a more refined and updated type than a classic mullet. Soft changes can differentiate it between shorter and longer hair sections.
Undercut Mullet: This combines an undercut with the mullet, contrasting the shaved sides and the longer back section.
Fringe:
Change your mindset and have a different look by adopting fringe. A fringe is a strand of longer hair that falls from the scalp's front line right above or on the eyebrows just by covering the entire forehead. Various length ranges can be for this according to one's own choice.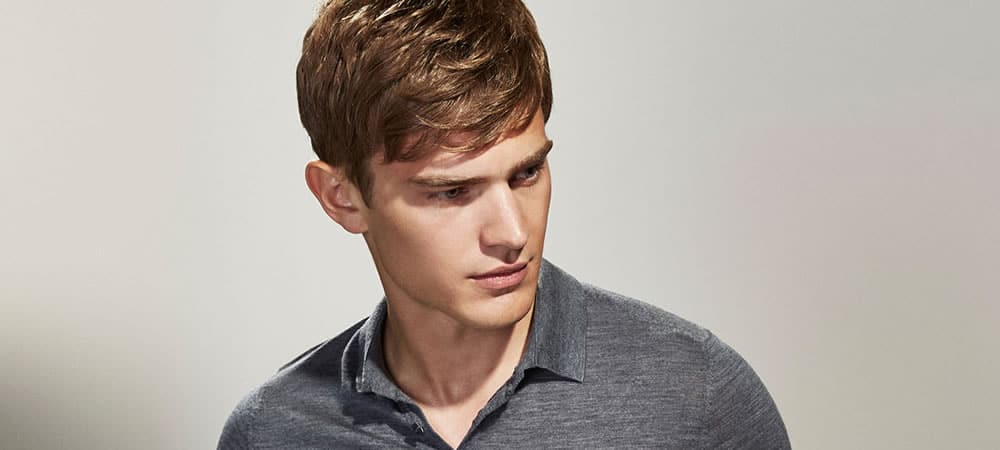 Moreover, I have found some of the leading fringe styles for you. Take a look at them and opt for one by consulting your stylist or by personalization.
Side-Spiked Fringe: The side-spiked fringe is characterized by a front section of hair, known as the fringe, that is styled forward and slightly to the side. This style provides a dynamic and edgy appearance.
Wolf Haircut With Fringe: The wolf haircut with fringe is a trendy hairstyle. It typically has longer hair on top with a textured fringe that falls over the forehead.
The "wolf" aspect of the cut often refers to the untamed and natural texture of the hair.
Naturally Textured: Everything looks more attractive when expressed naturally. So, elaborating the naturally textured fringe in simple terms. It involves leaving the front hair long and allowing the hair to fall in its natural pattern.
Short ponytail:
You must try a ponytail if you are searching for a very easy-to-maintain hairstyle without much effort.
It can also be a great option for men with thick hair and is simple enough to give you style immediately. This is also called a man bun, and that bun is called a topknot when it is placed high on the head.
Shag:
Prominent features of a shag haircut are multiple layers that typically start from the top and fall to the end.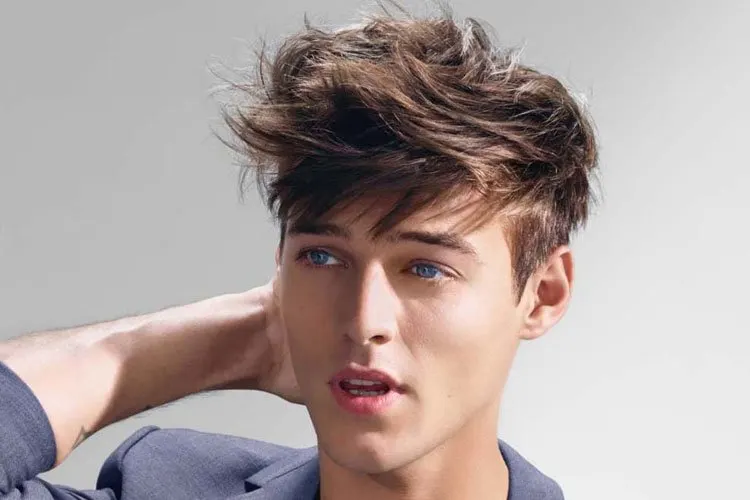 The layers have a feathery appearance at the top and side failings. This can create a messy look with a heavy volume. This is suitable to adopt for different hair lengths and face types.
Low Maintenance Shaggy Cut: The first type of shag cut is easy to maintain and requires less effort as it is clear by name. In this style, layers are incorporated to add texture, making it easy to style with minimal effort. It is a great option for individuals looking for a stylish, low-maintenance look.
Punk-Inspired Shag: Spikey-style shag involves choppy ends that may incorporate vibrant colors and highlights. Various techniques can be adopted to have a punk, like using different hairstyling products to attain spikes.
Shaggy Wolf Cut: Typically. This haircut involves long hair on top of the head with a fringe that falls over the forehead, while the sides and back may have a more untamed and natural texture. This style embraces a relaxed aesthetic impression.
Read also: Why Are My Clothes Ruined After Haircut? -Explore Solutions!
Quiff:
Presenting you a classy and adorable men's haircut! The Quiff involves long hair at the front that gradually tapers backward by combing hair upwards and away from the face and also gives a considerable volume to your hair.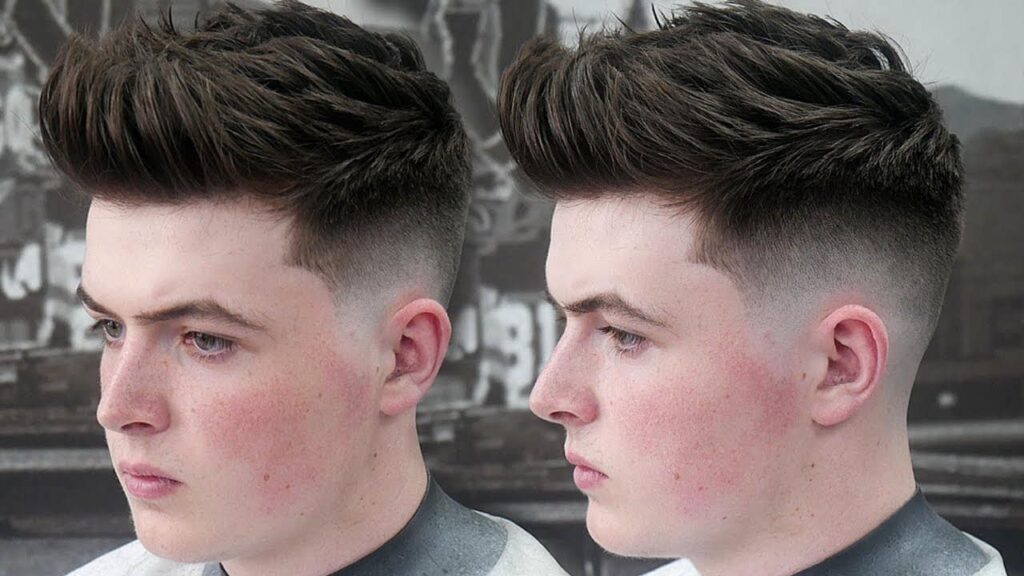 Some styling products, i.e., wax or hairspray, are required to maintain their shape and volume. The quiff is a go-to option for people curious about trendy hairstyles.
Faux hawk:
Another name for this hairstyle is the Fohawk. It is rapidly becoming a popular hairstyle among youngsters. The sides characterize it as usually tapered or short, while the hair in the center is left longer and styled upwards. This creates a distinctive and spiky look down the middle of the head.
Pompadour:
The pompadour is a classic men's haircut characterized by heavy volume on top, either shorter sides or shaved ones, and a neatly styled front.
However, you always have a choice depending on your interests. If you are interested in pompadours, come with me and pick one to go with!
Short Sides: In this type of pompadour, the sides and back of the hair are trimmed relatively short, forming the noticeable heavy and longer top. This style gives a fresh and sharp look.
Shaved Sides Pompadour: This variation creates a more dramatic contrast, giving volume to the height by neatly shaving the sides. The back is sometimes shaved with sides to make your top more prominent. Now it's your choice to choose what suits you!
Swept Back Pompadour: This type of hairstyling involves setting the front portion of the hair back and away from the forehead. This provides a slightly more relaxed and casual appearance than the above-discussed pompadour.
Textured Disconnection:
As the name indicates disconnection, it is a type of haircut in which your stylist cuts your hair in a pattern in which one part of a haircut is longer than another.
The repetition continues, and the hair is faded without any temper to blend. This results in a hairstyle with disconnected trims blended to raise the volume. Somehow, this gives a messy look that makes it easy for casual routines.
Undercut:
The haircut has a heavy volume on the top of the head, but the sides and backs are completely cut, buzzed, or razored. It shows off the facial structure and emphasizes the hair volume.
The undercut will surely give you a fresh and outstanding look regardless of your hair type. While opting for undercut, you have two main options to go with. Let's discuss both of them.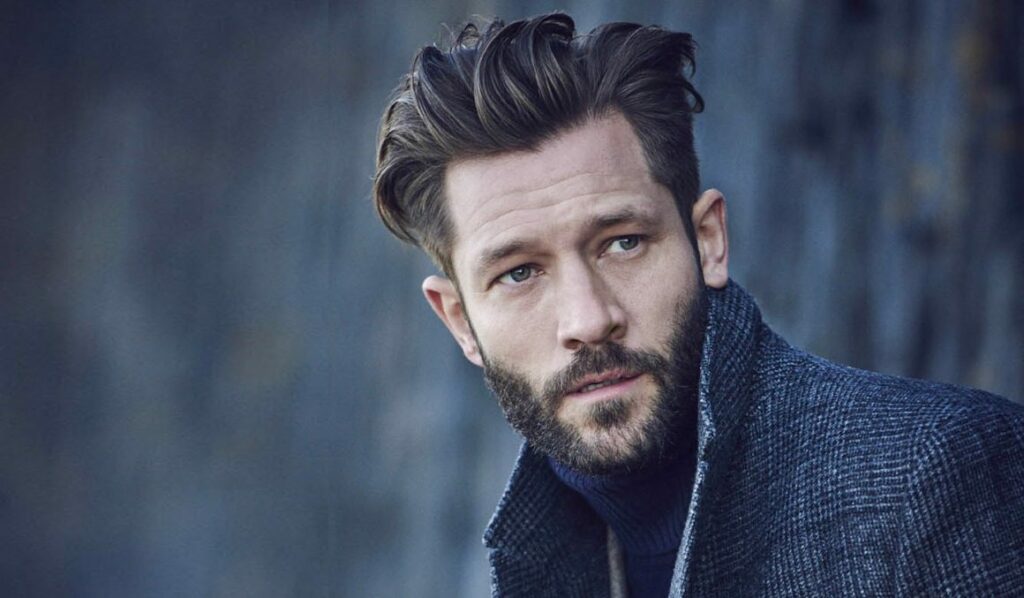 As the undercut has the sides and back buzzed, this is the same for this twist-back top variation of the undercut.
However, in this, longer hair or the top is twisted or quilled to the back to give a spiral look. This is done with the aid of some hair products to maintain the style, shape, and direction at the exact place.
Another undercut variation is that the hair on top of the head is intentionally left longer to make it quite voluminous. This creates a strong distinction between the heavy top, shaved sides, and back.
French crop:
Characteristics of this excellent trendy haircut are short sides and back having a slightly larger top. This is favorable to the adoption of various hair lengths.
French crop has another distinctive feature of having a fringe at the front additionally. You can also customize French Crop according to your face shape and personal styling.
Read also: What Do Barbers Put In Their Haircut Spray Bottles? – Seek Barber's Advice!
Spikes:
Another popular hair styling technique includes cutting hair to create sharp, upright, pointed hair that resembles spikes and creates a textured fashion.
This styling also needs some hair spray or gel to keep the spikes in shape. This is often associated with a bold and rebellious look.
Spiky low fade haircut: Combining a spiky top with a low fade creates a modern, stylish look popular among many men. It can be created by making spikes on top of the head and fading the sides and back.
Soft and spiky tapered cut: Like the later type of spikes, this one is also a combination of two styles, i.e., having soft and textured hair on the top and a tapered cut on the sides and back. Instead of creating sharp spikes, this style keeps the look relaxed and natural.
Classic back-combed haircut:
A classic back-combed haircut is a hairstyle that involves combing the hair towards the back of the head to create volume and a lifted appearance. It's a timeless style that has been popular in various forms for decades.
Here you go! You have finally taken a deep analysis of 19 different medium-length haircuts with their sub-types. To make your hairstyle more healthy and attractive, you must follow some hair care tips that will be discussed further.
Some hair-care tips – Keep Your Hair Healthy And Attractive!
First, I would recommend using a gentle shampoo along with the conditioner.
Also, Don't wash your hair too much
Make sure to choose a hairstyle that suits your face.
Use natural hairstyling products and avoid too much chemicals
One of the best things you can do is stay hydrated
Try to Avoid tight hairstyles as they damage hair roots.
Consult a professional if you notice hair loss or damage
Furthermore, just be sure to protect your hair from the sun, as it can damage your hair for a long period of exposure.
Make sure to have regular trims.
Frequently asked questions:
1. What are some of the best hairstyles for men with medium-length hair?
Some of the top trending haircuts are pompadours, Quiff, Slicked back cut, Textured Crop, Fringe, and Fohawk. But again, you should choose a hairstyle for you according to your face shape, not by trend.
2. Can men look attractive in medium-length hair?
Of course, yes, men can look attractive with medium-length hair. All they need to do is choose the right hairstyle that executes their personality and makes them feel versatile.
3. Which is the top most trending hairstyle for men right now?
The top trending and widely used haircut is a blend of two or three. People are more interested in faded or buzzed sides with a very short uppercut, a relaxing style in a casual routine. However, you can opt for any style of your choice other than that.
4. How can I have perfect hair?
To have perfect hair, you need to take care of your hair properly. Proper hair care doesn't mean to have expensive hair products. You can also attain it by following a proper diet routine and maintaining your stress level.
In a nutshell:
I am concluding my discussion, to sum up a huge article into a brief answer.
Some medium-length haircuts include textured waves, a classic slick back, a modern quiff, an undercut, a French crop, styled fringes, backcombing, and many other things you find suitable.
I must say that finding the right medium-length look can truly elevate your style and leave a lasting impression that you will admire. Choose one and enjoy being unique!