Short Curly Hairstyles For Men To Keep Your Crazy Curls On Trend – All You Want To Know In 2023!
Discover the charm of your natural curls with a collection of short curly hairstyles designed to keep you stylishly on-trend. As a man, you can showcase your individuality through your hair.
Enhance your look with short curly hairstyles for men with Messy Curls, Taper Defined Curls, Slicked-Back Curls, Textured Quiff, and Let your crazy hair curls keep trending! Stick with us till the end to find new curly hairstyles for men in 2023!
Table of Contents:
First Let's Take A Look at this Trendy Hairstyle:
Think of your curls as more than just hair – they're fascinating and show your spontaneity, charm, and uniqueness. Short curly hair is not just a hairstyle; it's about showing who you are.
The natural texture of curls gives your hair volume and depth that quickly makes you stand out. Even though curls can sometimes be tricky to manage, they can become your standout feature.
Read Also: Is It Ever Appropriate To Refuse Payment For a Poor Haircut? – Let's Discuss the Factors In 2023!
Top 15 Short Curly Hairstyles for Men In 2023 – Pick Your Favorite Style!
The Classic Taper Fade:
A classic taper fade is an intelligent option that easily blends the neatness of a fade with the lively volume of curly hair. The slow change from short sides to a slightly longer top lets your curls stand out while keeping a polished look.
This adaptable style works for many occasions, from fancy events to everyday outings, making it a favorite that never gets old. Celebrities like Jake Gyllenhaal and Kit Harington have worn this style, showing a polished yet rough charm.
The Textured Quiff:
If you're looking for excitement, the textured quiff is perfect. Its entire top and neatly faded sides create a mix of classy and bold. This style adds fun to your appearance, showing your confidence and unique style.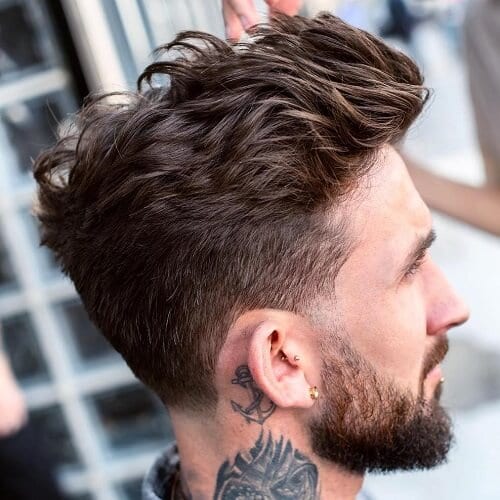 Celebrities like Timothée Chalamet have tried the textured quiff, embracing its trendy and young vibe.
Read Also: What Is Edgar Haircut? – Everything For Those Who Don't Know!
The Messy Curls:
Unleash your carefree spirit with the messy curls style. Discover controlled chaos by allowing your curls to feel freely on top while maintaining shorter sides for a balanced appearance.
This effortlessly cool look exudes a relaxed charm, perfect for those who want to showcase their laid-back yet trendy vibe. Harry Styles is known for his signature messy curls, which exude effortless coolness and individuality.
The Defined Curls:
The defined curls style celebrates your hair's natural texture while adding a touch of structure and definition. With the right products and techniques, you can achieve well-defined, structured curls that are bound to catch your attention.
This style is an excellent choice for those who want to embrace their curls while maintaining a polished appearance.
The Curly Pompadour:
Get a vintage-inspired look with the curly pompadour. The entire top gets smaller, giving a polished, stylish appearance that mixes old-school charm with current flair.
Read Also: How to Get Edgar Cut Video Tutorial — Discover Your Look!
The curly pompadour is a brave pick that shows your confidence and trendy thinking. Bruno Mars has worn a curly pompadour, giving his modern style a touch of classic charm.
The Undercut with Curly Top:
Found a distinct style statement with the undercut featuring a curly top. This style boasts a dynamic contrast between the short, clean sides and the textured, voluminous top. It's a bold and edgy look that releases confidence and modernity.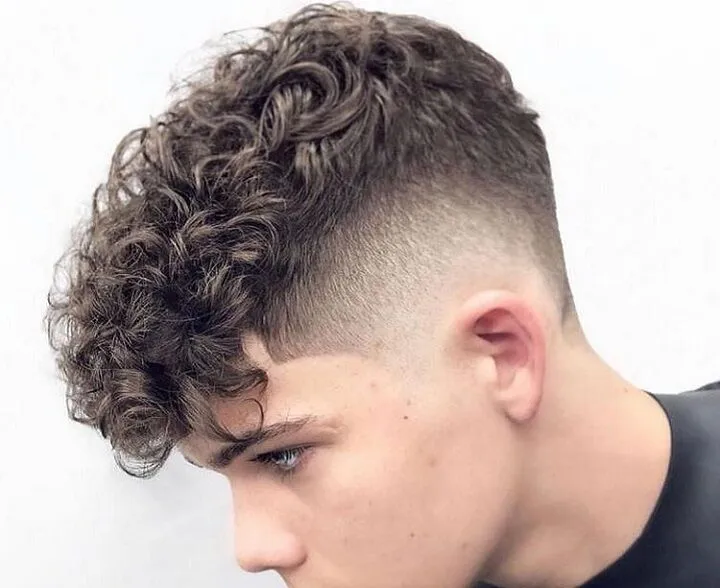 The Side Swept Curls:
Effortlessly cool, the side-swept curls style frames your face with elegance. Let your curls naturally flow to one side, creating a relaxed yet stylish appearance. This look captures a sense of movement and adds sophistication to your overall image.
Read Also: Fluffy Edgar Haircut – Unleash Your Bold and Stylish Image!
The Short Curly Afro:
Celebrate your curl's natural volume with the short curly afro. This style holds your hair's fullness and texture, giving you a distinct and confident appearance. The short curly afro is a classic choice that exudes authenticity and character.
Lenny Kravitz is famous for his short curly afro, showcasing his unique sense of style and embracing his natural texture.
The Faded Crop:
Mix modern trends with timeless elegance. The faded crop with curly hair on top offers a balanced, well-groomed look.
The gradual fade emphasizes the texture and personality of your curls while maintaining a clean and modern appearance. Michael B. Jordan has sported a faded crop with textured curls on top, combining modern aesthetics with classic elegance.
Read Also: Edgar Cut Meme – Let's Explore The Hilarious Trend In 2023!
The Mohawk with Curls:
Make a bold and daring statement with the Mohawk featuring curly hair. The raised central strip of hair contrasts with the shorter sides, capturing attention and showcasing your fearless style. This look is for those courageous in standing out from the crowd.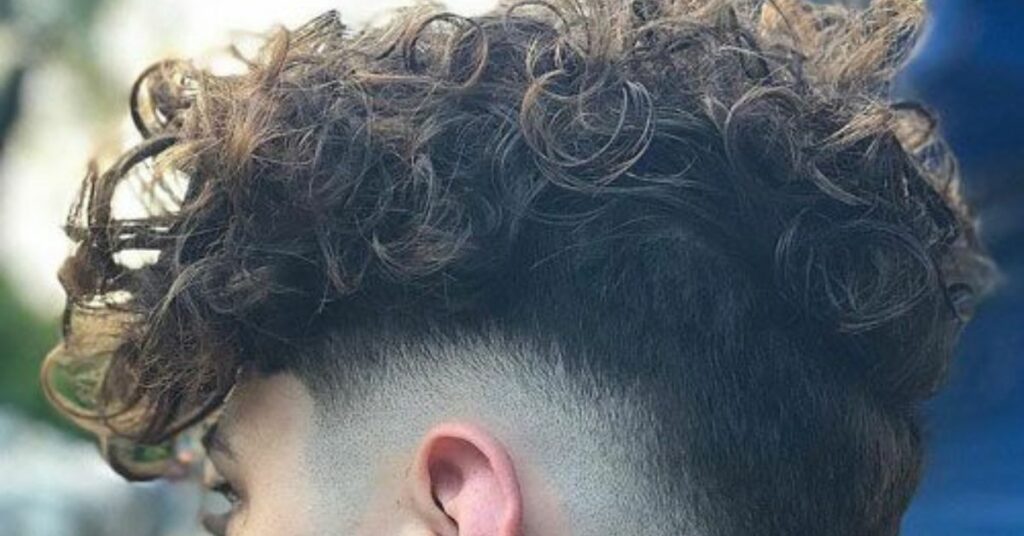 The Slicked-Back Curls:
You create a polished appearance by smoothing your curls backward while allowing their natural texture to shine through.
Read Also: Types Of Haircuts For Men – Everything You Are Looking For!
This look is perfect for those who want to make a lasting impression at formal events or important occasions. Orlando Bloom has been known to slick back his curly hair for a polished appearance, often seen at formal events.
The Curly Faux Hawk:
Demand attention and admiration with the curly faux hawk. This style features a central strip of hair that tapers from front to back, creating striking and dramatic features. The curly faux hawk is a powerful choice that speaks volumes about your confidence and fashion-forward attitude.
The Curly Mohawk Fade:
Blend the energy of a Mohawk with the elegance of a fade through the curly mohawk fade. The faded sides amplify your curls on top, resulting in a harmonious and fashionable fusion. This style showcases your ability to balance boldness with refinement.
The Curly Top with Hard Part:
Add detail and structure to your curly hair with the curly top and challenging part. The defined line enclosing your curls creates a clean and modern aesthetic, making this style perfect for those who appreciate precision and attention to detail.
Read Also: Short Sides Long Top Haircut – Expose Dynamic Men's Style In 2023!
The Curly Faux Undercut:
Release confidence and individuality with the curly faux undercut. You create a bold, unique look by pairing an undercut with a curly side-swept top. This style showcases your willingness to experiment with different elements to create a distinct appearance.
So, if you're a lover of this amazing hairstyle then visit Edgar.com to see further details and styling ideas.
Frequently Asked Questions About Short Curly Hairstyles for Men!
1. How do I manage frizz in my short curly hair?
Best frizz by opting for sulfate-free shampoos, using a wide-tooth comb, and applying a quality anti-frizz product for sleek, well-maintained curls.
2. Can I straighten my short curly hair?
While temporary straightening is possible using heat styling tools, ensure protection with heat protectants and minimize heat exposure to preserve your hair's health.
3. What products should I use for short curly hair?
Boost your routine with curl-enhancing shampoo, conditioner, and leave-in products. Invest in a curl-defining cream or gel for maintaining optimal curl appearance.
Conclusion:
By exploring different curly hairstyles above, We conclude that; You can welcome your enhanced look with short curly hairstyles for men with Messy Curls, Taper Fade Defined Curls, Slicked-Back Curls, or Textured Quiff that match your personality and Let your curls keep trendy!
So, feel free to choose the curly hairstyles we have provided you to change your personality as soon as you can!