Types Of Haircuts For Men – Everything You Are Looking For!
Your haircut is an extension of your personality and style. It has the power to make a statement and set you apart.
There are different haircuts for men like Edgar Haircut, The Lavy League, Men's Undercut, Mohawk, Men's Long Haircut, Men Bun, Brides, Pompadour, Crew Cut, Blow Cut, and many more
In this comprehensive guide, we'll explore a variety of men's haircuts that cater to different tastes, hair types, and occasions. Whether you're aiming for a professional look or a casual vibe, we've got the perfect haircut for you.
Different Types of Haircuts for Men – Elevate Your Style!
Edgar Haircut:
The Edgar cut, which blends elements of a fade and a bowl cut, first gained traction among Mexican teenagers and Latino men.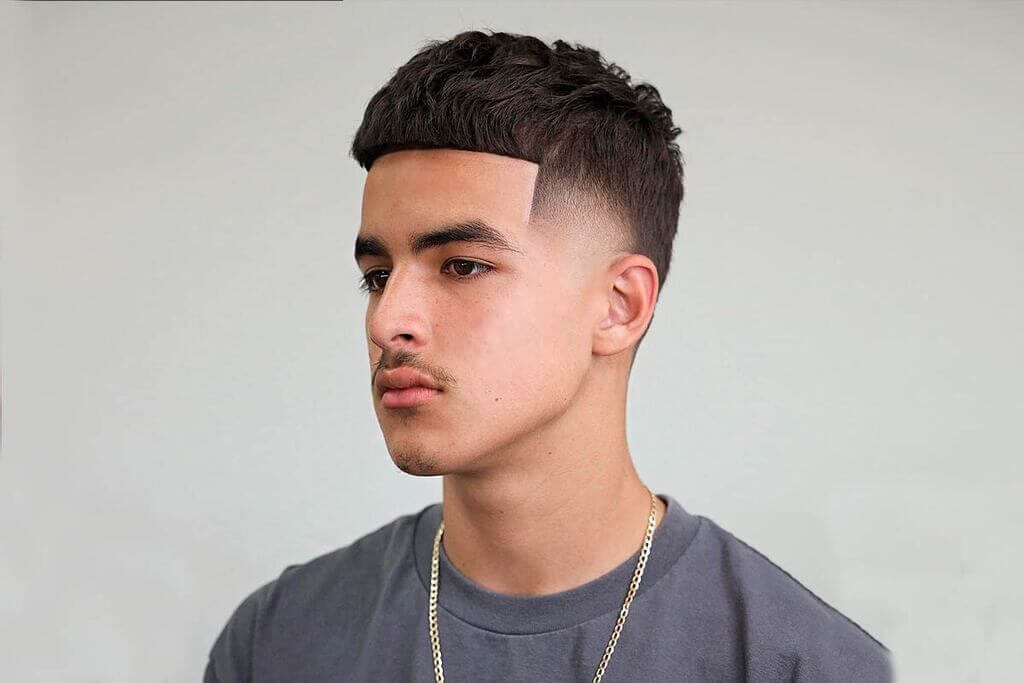 However, it was baseball player Edgar Martinez who truly ignited the Edgar haircut trend. His iconic shaved Edgar cut became a sensation and is now a ubiquitous style choice.
The Ivy League:
The Ivy League haircut, an extended variation of the classic crew cut, features longer hair on the upper portion while maintaining short, faded sides. This style offers the option of a side parting.
A contemporary and sophisticated twist on this haircut includes a shape-up, which requires a shaved natural hairline and a defined shaved side part.
Men's Undercut:
Bold, daring, and stylish, the undercut has taken the men's fashion world by storm. With shorter sides and a longer top that can be tailored to individual preferences, the undercut radiates edgy confidence and modern appeal. It's a statement that asserts both power and creativity.
Caesar Cut:
Named after the mighty Roman emperor himself, Caesar cut to give off authority and sophistication. This cut boasts short, horizontally straight-cut bangs and a slightly textured top.
With its low-maintenance charm and structured look, the Caesar cut is a favorite for those seeking a refined yet effortless appearance.
Mohawk:
For those who dare to be different, the Mohawk commands attention and showcases a fearless spirit. The sides are shaved or faded, leaving a strip of hair running from the forehead to the nape.
The Mohawk can be adapted to suit various lengths and styles, allowing for a range of interpretations from nice to noticeable.
Faux Hawk:
A faux hawk presents a gentler and more adaptable take on the mohawk haircut. While it retains the distinction between the shorter sides and the elongated central section of hair, the transition is smoother, resulting in a hairstyle that is both contemporary and easily wearable.
Read Also: Can I Get HIV From A Razor Cut At A Barbershop? – Explore Now!
Taper Cut:
Precision and finesse meet in the taper cut. With a gradual decrease in hair length from top to bottom, this cut achieves a sleek and polished appearance. Whether it's a low, mid, or high taper, this style offers a sense of neatness and class that's hard to ignore.
Fades:
Elevate your appearance with these fade variations that offer a seamless transition from shorter to longer hair. Choose the fade level that best complements your style and personality, and watch as it enhances your overall aesthetic.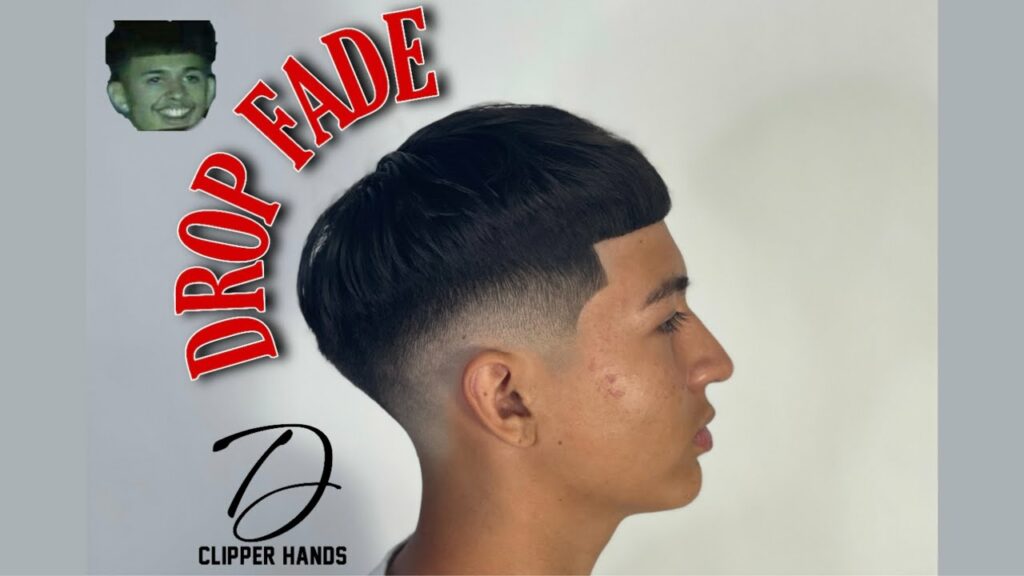 Crew Cut:
A timeless classic that never loses its charm, the crew cut embodies the essence of clean-cut elegance. With its short length and even proportions, the crew cut is a go-to choice for men who prioritize both style and simplicity.
Buzz Cut:
Embrace minimalism with the buzz cut, a style that radiates confidence and is effortlessly cool. The ultra-short length exudes a sense of rugged determination while allowing your facial features to take center stage.
Bowl Cut:
A blend of nostalgia and modern flair, the bowl cut is making a strong comeback. This cut features a straight fringe and a rounded shape that gives a playful and youthful vibe.
Read Also: Short Curly Hairstyles For Men To Keep Your Crazy Curls On Trend – All You Want To Know In 2023!
Hipster Cut:
The hipster cut embodies the free spirit of contemporary urban fashion. With longer hair on top and shorter sides, this cut allows for a variety of styling options, including messy textures and creative partings.
Medium Length Haircut:
Strike the perfect balance between short and long with a medium-length haircut. This versatile style offers room for creativity while maintaining a polished and put-together appearance.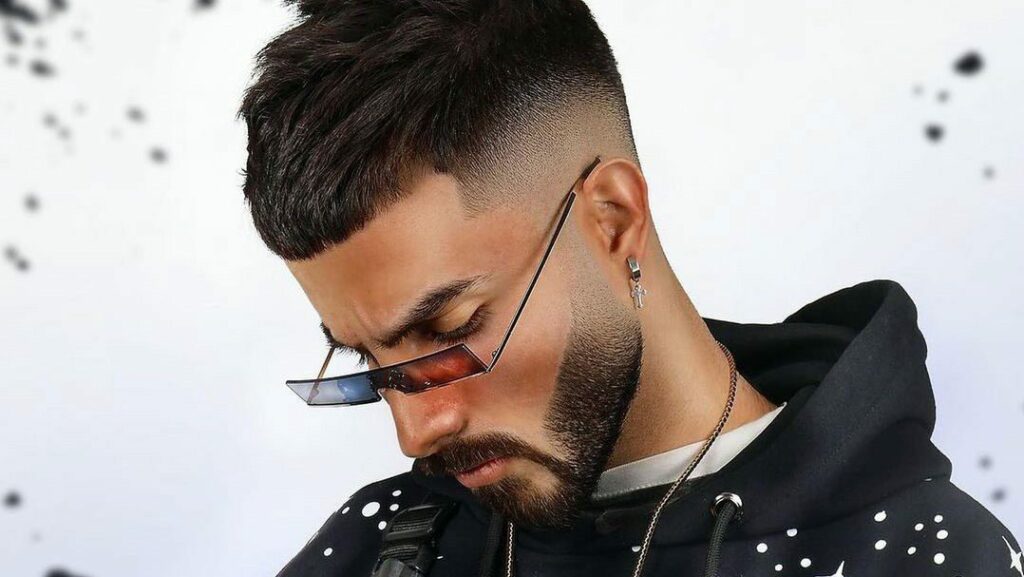 Long Men's Haircut:
Individuals with thick, wavy hair can greatly benefit from opting for longer hair. Although it may require patience to allow your hair to grow, long hairstyles for men exude a truly stylish vibe and do not necessitate frequent trips to the salon.
From flowing locks to carefully tousled tresses, long hair makes a statement that's impossible to ignore.
Men Bun:
Channel your inner zen with the men's bun, a stylish and practical option for longer hair. This laid-back yet refined style keeps your hair out of your face while showcasing your flair.
Disconnected Haircut with Messy Curly Top:
This modern masterpiece blends structure with chaos, featuring a disconnected side and back contrasted by a messy and voluminous curly top. It's a look that screams confidence and rebellion.
Pompadour:
The pompadour haircut, characterized by its sleek and voluminous appearance, is meticulously crafted using scissors. Its defining element is a lengthy, swept-back front section.
Achieving this style demands dedication and patience in styling: commence by blow-drying your hair, guiding it backward while elevating the front section, and complete the look with a robust application of hairspray.
Quiff:
The quiff exudes an air of playful sophistication, combining voluminous height with a touch of rebellion. It's a style that radiates charisma and audacity.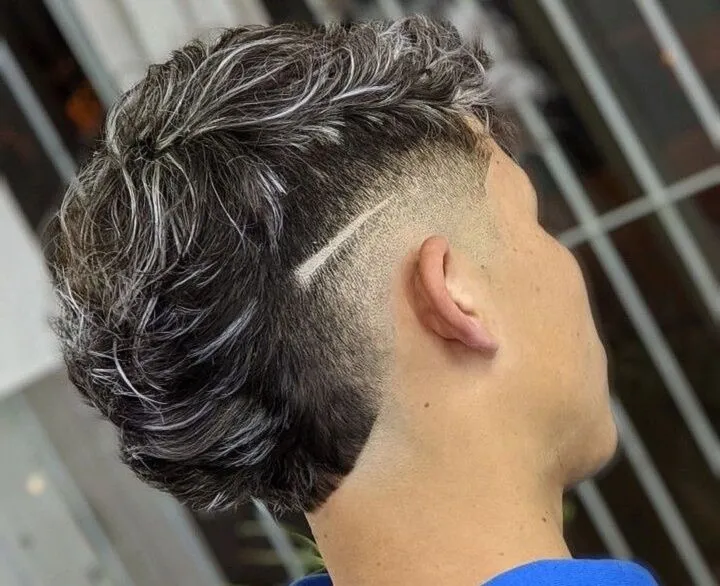 Comb Over:
Embrace classic charm with a contemporary twist through the comb-over. With its side-swept hair and neat structure, this style adds a touch of refinement to any look.
Classic Slick Back:
Timeless and elegant, the classic slick back is a nod to the gentlemen of the past. Its sleek, polished appearance showcases an unwavering sense of sophistication.
Fringe Hairstyle:
Frame your face with finesse through the fringe hairstyle. Whether it's a subtle sweep or a bold statement, the fringe adds an element of intrigue to your overall look.
Dreadlocks:
Embrace cultural richness and individuality with dreadlocks. This style is a celebration of diversity and self-expression, representing a unique blend of art and identity.
Shaved Sides:
Add a dash of boldness with shaved sides that create a stark contrast to the longer hair on top. This style is an embodiment of fearless style and audacious confidence.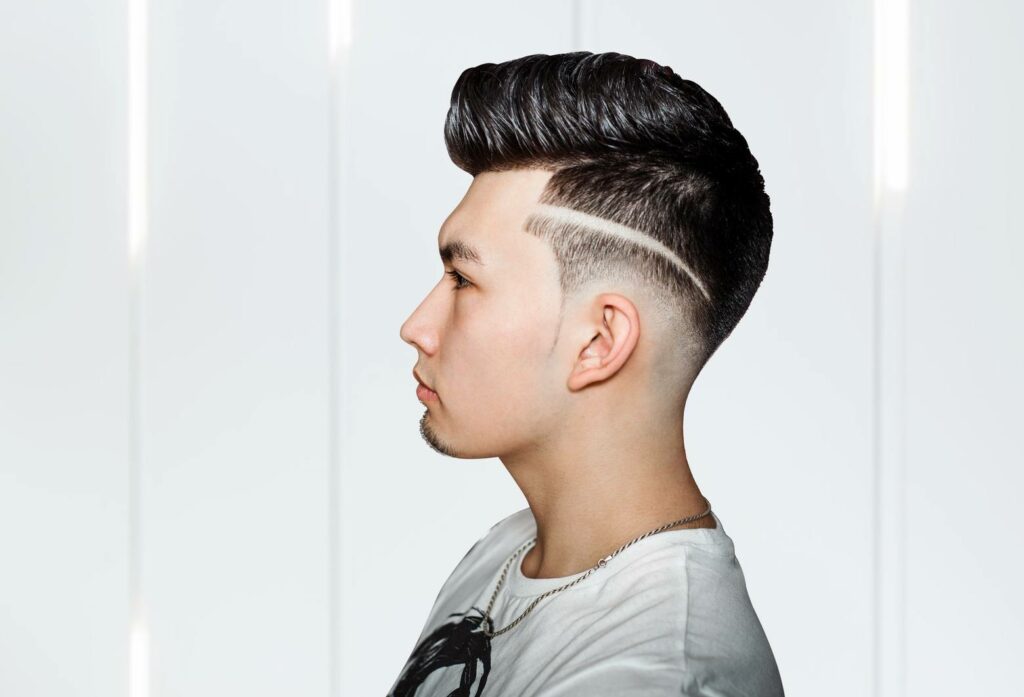 Men Braids:
Channel your inner warrior with men's braids, a style that blends historical significance with modern charm. Braids add texture and character to your appearance, showcasing your willingness to experiment with tradition.
Spiky Hairstyle:
Exude energy and vitality with the spiky hairstyle, a look that's synonymous with youthful exuberance and a carefree spirit.
Mullet Cut:
Unleash your inner rebel with the mullet cut, a style that defies convention and embraces individuality. Short in the front, and long in the back, the mullet captures a sense of audacious irreverence.
Flat Top Haircut:
Command attention and showcase your unique flair with the flat-top haircut. Its distinct shape and angular lines radiate a sense of confidence and boldness.
Military Cuts:
Precision, discipline, and timeless appeal define military cuts. These styles pay homage to tradition while exuding a sense of order and control.
Athletic Haircuts for Men:
For sports enthusiasts and active individuals, athletic haircuts combine style with practicality, allowing you to conquer both the field and fashion with equal prowess.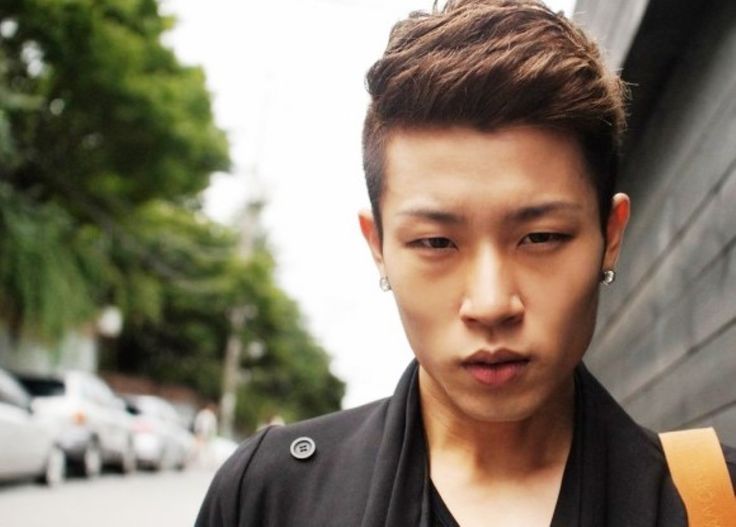 Here you go! These are the huge list of hairstyles a man can have. Hopefully, this guide to all types of men's hairstyles will help you.
Frequently Asked Questions:
1. How do I choose the right haircut for my face shape?
Consider consulting with a professional hairstylist who can analyze your face shape and recommend cuts that complement your features. Experimenting with different styles can also help you discover what suits you best.
2. Are certain haircuts better suited for specific hair types?
Absolutely. Certain haircuts may work better with straight, wavy, curly, or oily hair. A skilled hairstylist can guide you on the best options based on your hair type and texture.
3. How do I maintain my chosen haircut?
Regular trims and using appropriate hair products are key to maintaining your chosen style. Follow your hairstylist's recommendations for upkeep and styling techniques.
4. Can I personalize a haircut to match my unique style?
Absolutely! Many haircuts offer room for personalization. Communicate your preferences and vision to your hairstylist, and they can tailor the haircut to reflect your individuality.
Conclusion:
There are different haircuts for men like Edgar Haircut, The Lavy League, Men's Undercut, Mohawk, Men's Long Haircut, Men Bun, Brides, Pompadour, Crew Cut, Blow Cut, and many more.
With a diverse array of options, from the bold Edgar cut to the classic Crew Cut, and from the rebellious Mullet to the sophisticated Pompadour, there's a haircut to suit every taste, occasion, and hair type.
Your hairstyle is a powerful reflection of your personality and fashion sense. Consult a professional stylist to find the perfect style that sets you apart and enhances your unique charm.